Let Happy Fish service your aquarium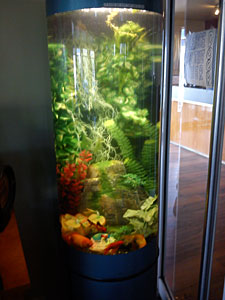 Do you own an aquarium that you don't want to, or do not know how to maintain?
Happy Fish can create a custom made maintenance / servicing schedule to suit your needs.
This can be from basic partial cleans (where you help with the maintenance) starting at $40 per month or $60 per service; to fully serviced and guaranteed with all items supplied - equipment, fish, display ornaments and plants etc. Prices for this service start at $60 per month.
Happy Fish use top quality equipment and setups -
Attractive fish
Play, feeding and rest areas
Gorgeous tropical displays
Cool ornaments and characters
Quality food and water
We aim to create Happy Fish and Happy Customers !
Happy Fish can repair and refurbish your existing tank and often make better than new. And solve any problem you are having with your aquarium.
Your fish or my fish - make them Happy Fish !

Examples of aquarium displays:
For the best looking aquariums and the healthiest fish, phone HAPPY FISH on 022 629 3117 (ring and hang up and Barry will phone you back).