Positive Feng Shui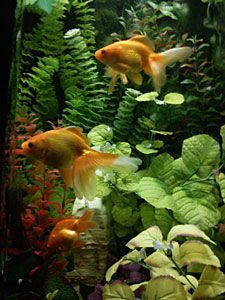 Ancient Chinese philosophy in your home or workplace.
Aquariums are the ultimate positive chi. (energies)
The aquarium itself has all the 5 elements of feng shui -
Water
Earth
Wood
Metal
Fire
The number and colour of the fish within have further meaning and energies.
Numbers have different meanings depending on which region the people are from due to dialect. The use of two main colours, gold to associate with money, wealth, happiness and warmth, and black for energy, power and protection.
Other colours can be used to decorate the inside and outside of each aquarium to bring even further positive energies.
Many numbers have positive energies.
Meanings can include such things as - new beginnings, top grade, easy growth, prosperity, lively, active progress, luck, happy, good news, me or my, longevity (or always), doing lots of business, wealth and abundance, family unity, long-term (forever).
You can decide which energies are important to you and Happy Fish can advise and supply correct numbers and colours of fish to match.

Examples of feng shui aquarium displays:
For the best looking aquariums and the healthiest fish, phone HAPPY FISH on 022 629 3117 (ring and hang up and I will phone you back).